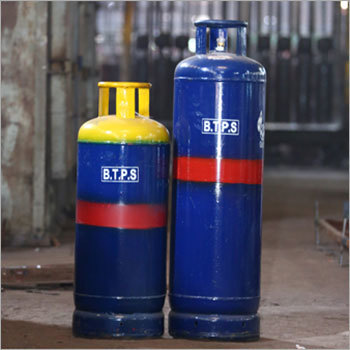 Dissolved Acetylene Cylinders
Product Description
Dissolved Acetylene Cylinders

When it comes to easily transporting acetylene to various companies where this chemical find applicability, nothing can serve better than Dissolved Acetylene Cylinders. These cylinders are crucial for safe storage and effective working of acetylene. Acetylene is a hazardous and flammable gas which must not be used in it's pure state which is why liquid acetone is added in acetylene under very high pressure. A permeable or soluble material like firebrick is added in cylinder along with the prepared acetylene, which makes it easy for the supplier to ship it and the user to get acetylene in the most perfect and effective form.

We a well-known manufacturer, exporter and supplier, engaged in offering excellent quality Dissolved Acetylene Cylinder. Offered cylinder contain dissolved acetylene gas which is used in various industries for welding purpose. Under our experts' supervision, these cylinders are manufactured by utilizing the best quality raw material as per the set industry standards. Moreover, these Dissolved Acetylene Cylinders are widely demanded in market for their high endurance, excellent resistance from corrosion, leak proof structure, durable and heat resistant finish. This cylinder is fitted with a valve, fuse plug, long fiber asbestos and metal detachable cap, which makes it possible for the user to easily open it and use it.
Key Points:

When not in use, this cylinder must be stored carefully and separately, so as to prevent accidents like explosion.
This cylinder must always be kept and used in upright position.
No leakage related issues because it is made using steel.
This cylinder aid in reliable shipment of acetylene.
These cylinders are safe to use and prevent any dangerous reaction of acetylene.
Cylinder valve when closed properly, it prevent excessive heating and extinguish flame.
Dissolved Acetylene Cylinders are different from other cylinders because a porous ingredient is added to them.
Availability of cylinders in various sizes, diameter and wall thicknesses.

Technical Specifications:
Model

UNIT

JMC-17D

JMC-41D

JMC-S-41D

Type




Three piece welded

Three piece welded

Seamless

Specification




IS: 7312 - 1993

IS: 7312 - 1993

IS: 7312 - 1993

Water Capacity

Ltrs.

17.2 Ltrs. + 3%-0

41 Ltrs. + 3%-0

41 Ltrs. + 3%-0

Hydrostatic Stretch Pressure

Kg/Cm2

53

53

250

Pneumatic Leakage Test Pressure

Kg/Cm2

40

40

150

Max. Working Pressure at 150 C

Kg/Cm2

16

16

16

Gas Capacity

Kg.

3.2

7

7

Outer Diameter

mm

185

258

232

Inner Diameter

mm

177

250

221 Approx.

Wall Thickness (Nominal)

mm

4

4

5.6

Length Without Valve (Approx.)

mm

815

960

1220

POROUS MASS

Type




Monolithic Calcium
Silicate Mass

Monolithic Calcium
Silicate Mass

Monolithic Calcium
Silicate Mass

Porosity

%

90-92

90-92

90-92

Crushing Strength (Minimum)

Kgf/Cm2

22

22

22

Solvent




Acetone CH3COCH3

Acetone CH3COCH3

Acetone CH3COCH3

Tare Weight

Kg.

29

55

65

Valve conforms to




IS: 3224

IS: 3224

IS: 3224

Fusible Plug




Two Fusible Plug

Two Fusible Plug

N.A.

Scope of Supply: DA Cylinders with Monolithic Porous Mass, filled with Acetone, Saturated with gas fitted with valve, fusible plugs and valve guard, surface mettalized with zinc painted, certified by BIS and approved by CCE.
Contact Us
Machhe Industrial Estate, Jamboti Road, Machhe, Belgaum, Karnataka, 590014, India
Phone :+918035063083